Wrong Number

By: J.T. Evergreen
The poetry in writing is the illusion it creates.
(© 2019 by the author)
The author retains all rights. No reproductions are allowed without the author's consent. Comments are appreciated at...



jtevergreen@tickiestories.us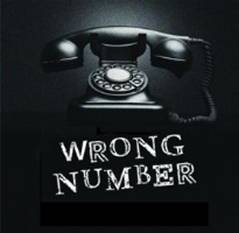 "Hello."
"Chip?"
"No."
Whispers, "Shit."
"Excuse me?"
"Sorry. Is this Clearbrook 3 6148?"
"Yes, it is."
Whispers, "God dammit."
"Sir?"
"Sorry."
"God's last name is not Dammit."
"What? Oh." Laughter. "I'm sorry. Someone gave me your number."
"Chet?"
"Yes."
"He's not here."
"Right. Hey, is that Gilda Radner singing in the background?"
"Yes, it is."
"Sounds like 'Let's talk dirty to the animals'."
"Yes, it is."
"I've been looking all over for that thing. Where did you find it?"
"On the Internet."
"Do you remember where?"
"Yes, as a matter of fact I do. Would you like the URL?"
"Yes, I would."
"I'll need your email address."
"Great. It's nick an nora charles, all one word, at gmail dot com. That's 'an nora', not 'and nora'."
"Got it. Are you a fan?"
"Of Gilda?"
"No, Nick and Nora Charles."
"Oh, yeah. I've got all their films."
"I'll send that URL right away."
"Who are you.? What's your name?"
"Nick Charles." I laughed as I hung up.
I sent the URL on my email: mydogmaxwoof@gmail.com, and almost immediately got a reply.
HEY, MAX. THANKS. YOU IN THE CITY?
I laughed and replied, 85TH AND CENTRAL PARK WEST. WHY?
He replied, GREAT. I'M AT 86TH AND COLUMBUS. LET ME BUY YOU A COFFEE AT GOOD ENOUGH TO EAT. DO YOU KNOW THE PLACE?
I replied: YES. WHY?
He replied: JUST A THANK YOU FOR THE URL.
I replied: OK, WHEN?
He replied: HOW ABOUT NOW, WITHIN THE HOUR? UNLESS YOU'RE BUSY.
I replied: NOT PARTICULARLY. OK, BUT I MUST WARN YOU.
He replied: ABOUT WHAT?
I replied: I NEVER DO ANYTHING ON MY FIRST DATE.
He replied: HA HA HA HA HA HA YOU DRINK COFFEE I HOPE.
I replied: YES, I DRINK COFFEE LOL.
He replied: I'LL BE THERE IN ABOUT 20 MUNUTES.
I replied: SEE YOU THEN. AND MY NAME ISN'T MAX. THAT'S MY DOG'S NAME. I'M
GRZEGORZ BRZECZYSZCZYKIEWICZ. YOU CAN CALL ME GREG. LOL. I didn't get a reply and wondered if that scared him off. It's really quite easy to pronounce – once you know how. It helps if you speak Polish.
We did meet and had a very pleasant time. A funny man with an indelible smile on his plain but interesting face. His name is Hal Thornton. He tried to pronounce my name, with my help, but failed miserably in a hail of laughter, deciding Greg was the best he could do. He was about my age, wavy brunet hair, that seemed to have a mind of its own, graying at the temples a little, taller than six feet by an inch or two, dressed well for the casual meeting and seemed genuinely interested in our conversation and what I had to contribute. I was impressed and very pleased with my new acquaintance.
We continued to see one another on and off over the next few months, discovering the many things we had in common. I never did find out who Chet was and never bothered to ask. And then one day we decided to ride the carousel in Central Park. It was a beautiful spring day and seemed the perfect thing to do.
We paid our fare, mounted side by side horses and were merrily riding in circles when Hal turned to me, his face devoid of smiles I had become accustomed to, along with eyes that seemed somewhat sad. It was such a different person looking at me, I wondered what was going on. And then I found out.
"Greg."
I smiled in response and waited.
"I'm gay."
You could have knocked me over with a feather. I couldn't think of a single thing to say and finally blurted, "Good for you."
"Good for you? Is that the best you can come up with?"
"Well, what the hell did you expect me to say . . . dumping that on me with no warning."
He looked away and responded sadly. "Yeah, you're right. I should have prepared you somehow."
"You're such a goody two shoes gentlemen. You should have pinched me or frotted me."
He looked at me, "Frotted you? What the hell does that mean?"
"You know . . . rubbing your crotch up against me . . . somehow . . . fully clothed."
He began to giggle which turned into laughter. "Have you ever been frotted?"
"On occasion . . . and usually by someone I did not want frotting me." I tried to look serious but the corners of my mouth were having none of it.
"Would you have been offended if I had?"
"Had what?"
"Frotted you."
I played the moment. "Well, frot me sometime and I'll let you know." I stared straight ahead as the horses galloping began to slow down. The ride was over.
We dismounted our beautiful painted ponies and walked out into the park – in silence. It was useless. I finally asked, "Would you like to come up to my place?"
His face was back to its usual joviality. "Will I be able to frot you?"
I laughed. "You'll be able to do a lot more than that . . . If you want to."
"Yeah, I want to."
"Ok, then. Let's go."
Both of us were toying with middle age so there was no raging lust and ripping off of clothing once the front door was closed. We just worked our way into it and had a wonderful time. As we relaxed afterward, I had to ask, "Who's Chet?"
There was a moment of silence before he began to laugh.
"You had to think about it?"
"He was nothing. The only good thing was . . . he gave me your number."
"Oh, yeah. I forgot about that."
"That was almost a year ago."
"Has it been that long?"
He took my hand, brought it to his lips and kissed it. "It has, indeed."
"You wanna hear 'Let's talk dirty to the animals'?
He laughed. "That would be perfect."
THE END
Thank you for reading this story.
Here's the URL for Gilda's song.
Cheers.

Posted: 03/01/19